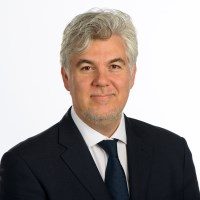 Areas of Expertise: Asset Management, Quantitative Finance.
Yannis has 24 years of experience in the financial markets. He is a Director and Investment Management Advisor of Finvent Software Solutions, an independent investment software firm in the U.K. which offers a comprehensive multi-asset portfolio and risk management analytics suite. The firm's client base comprises of Wealth/Asset Managers, Family Offices, Hedge Funds, Banks and Foundations, in Europe and USA, who use Finvent's configurable analytics platform to design, back-test and validate their proprietary investment strategies, across traditional and alternative asset classes. 
Since 2013, Yannis was a Partner of BlueLake Associates, an independent investment advisory firm in Switzerland, which acts as an outsourced Chief Investment Officer for high net worth clients and single/multi family offices. The firm applies a dynamic selection of research-driven wealth-preservation, income-enhancing and capital appreciation investment strategies within a disciplined rules-based risk management framework.
Since 2008, he was a Partner and founding member of Integral Capital Management, an independent quantitative investment management firm in London which advised and managed assets via a selection of proprietary quantitative investment strategies, across a wide range of asset classes, financial instruments and geographies.

Since 2000, Yannis was a Director and founding member of Salomon Smith Barney Asset Management Group (Citigroup Capital Markets) in Europe, where within the Research and Product Development team, he focused on the provision of multi-asset investment and trading solutions to international high net worth private clients and institutions, developing the Group's advisory and discretionary products platform across asset classes, including alternative investments and quantitative strategies.

Since 1997, he was a Vice President at the Fixed Income Arbitrage Trading Group of Salomon Brothers in London, where as a Senior Quantitative Research Analyst led the macro-economic asset valuation modelling and design of the Group's proprietary trading platform, developing stochastic multi-factor trading models for the term structure of interest rates as well as Emerging Markets early-warning signal crisis models for assessing a country's vulnerability to currency crises.
Yannis holds an M.Sc. in Mathematics and a Ph.D. in Mathematics (1996) from Warwick University in the U.K., where since 1993 he also held the position of a European Commission Research Fellow at the Mathematics Research Institute.